Our top pick: #1 CuBs & CuPs (Desa Sri Hartamas)
This pet-cafe located amongst many restaurants stands out as the only business who welcomes and encourages animal lovers and their respective pets to dine in their pet haven. CuBs & CuPs sells food and beverages for both owners and their furry friends, giving you the experience of dining out together and a chance to bond through a new dynamic whilst surrounded by the adorable dogs in residence. But what makes this unique cafe stand out from the rest is the additional service they provide: besides offering a safe, friendly environment for pet owners to dine with their pets, CuBs & CuPs also acts as a boarding house, where owners can drop off their pets at the cafe while they go off to work, and pick them up once they are done.

Over the weekend, I had the privilege of visiting the cafe and interviewing the owner himself, David Son, who kindly enlightened me with the nature of his business and his hopes for its future. Upon entering, I was welcomed by the happy, excited face of Nacho the Pomeranian who was shortly followed by two other lovely puppies. The exterior is one which closely relates to a small garden, making the cafe resemble a cute, animal loving house that instantly made me feel welcomed. I was then led into a medium-sized, and spacious, indoor space which was decorated with pet quotes (some which were very clever and made me laugh), and sat down with the man behind CuBs & CuPs.

                                                                 "Pets Welcome. People Tolerated"
1. The idea & motivation behind the cafe:
David (originally from Korea) was only a student when the idea to open up a pet-cafe in Malaysia struck him. After acknowledging the vast number of pet-cafes prevalent in Korea for over 11 years, as well as being a proud, loving owner to a few dogs, David wanted to open up the first pet-cafe in Malaysia, thus CuBs & CuPs was created.
2. Aim(s)/Mission(s) of the business:
David's concept is to introduce a pet-friendly environment where pets are not just restricted to parks or their house. He wants to give animal lovers and their animals another outlet to spend time with one another outside of the usual routine of dog-walking. And in a culture rich with a variety of cuisines, what better way to bond than through food?


3. Aspirations for the future of the business:
Before, David's aspiration was to open up the first pet cafe in Malaysia – a goal which he has already achieved. Today, he hopes to continue keeping his business strong and educate the public on how to deal and interact with dogs – a target he aims to succeed after observing that more than 80% of his customers do not really understand how to deal with the dogs in residence.
Keep in mind that the dogs constantly see new faces everyday, and this can cause them to be stressed and at times, act out with the need of protecting its territory. David's pets currently receive training to cope with this, but we need you to be more aware and cautious on how you approach and interact with the dogs!
Also, CuBs & CuPs is NOT a zoo – it is not a place for people to come and visit just to see the dogs. Like many other cafes, you go to eat and drink, the only difference is that customers are welcome to bring their pets and dine alongside friendly animals.
In addition, he also hopes to highlight the importance of animal welfare, and in particular, to encourage people to adopt dogs rather than buy them – an issue that is still evident in Malaysia.
4. The Dogs in residence: 
They are David's pets. But sometimes the animals belong to other owners and are simply boarding in the cafe for a specific amount of time. Currently, the pets in the cafe have already been bought, but David – being a strong animal welfare advocate himself – is open to the idea of welcoming rescued pets in the future and opening them up for adoption.
5. Food and Beverages recommendations! (For humans and pets!)
For humans: David highly recommends you to try their smoothie bowls (a breakfast delicacy, but you can eat it whenever you please), which consists of a variety of fruit mixed with seeds. He also recommends the 'Bingsu' which is a very popular, famous Korean shaved ice dessert with sweet toppings ranging from chopped fruit, condensed milk, fruit syrup, and many more!
For Pets: Chicken Breast (his dogs LOVE it!)
For those of you who are looking for the perfect place to hang out with your pet, CuBs & CuPs is the answer you are looking for!

Address: 22, Jalan 30/70a, Desa Sri Hartamas, 50480 Kuala Lumpur, Wilayah Persekutuan Kuala Lumpur, Malaysia
Opening hours: 11.00am to 11.00pm daily. Closed on Tuesdays.
Contact Information:  +60146395023/Facebook/Instagram
2. The Clawset Cafe (Damansara Jaya)


Founded in November 2014, Clawset Cafe is home to a number of resident dogs (which includes many adorable Pomeranians and the infamous 'Grumpy Cat' lookalike) who welcome customers and their furry companion(s) into a space where dogs can dine with their owners and roam around freely. Located on the first floor in Damansara Jaya, Clawset Cafe operates as both a pet-friendly restaurant, pet shop, and grooming facility (how convenient!) So if you want to send your pet to a groomer and don't want to drive back and forth, consider visiting Clawset where you can wait at their cafe and feast on their infamous waffles whilst waiting.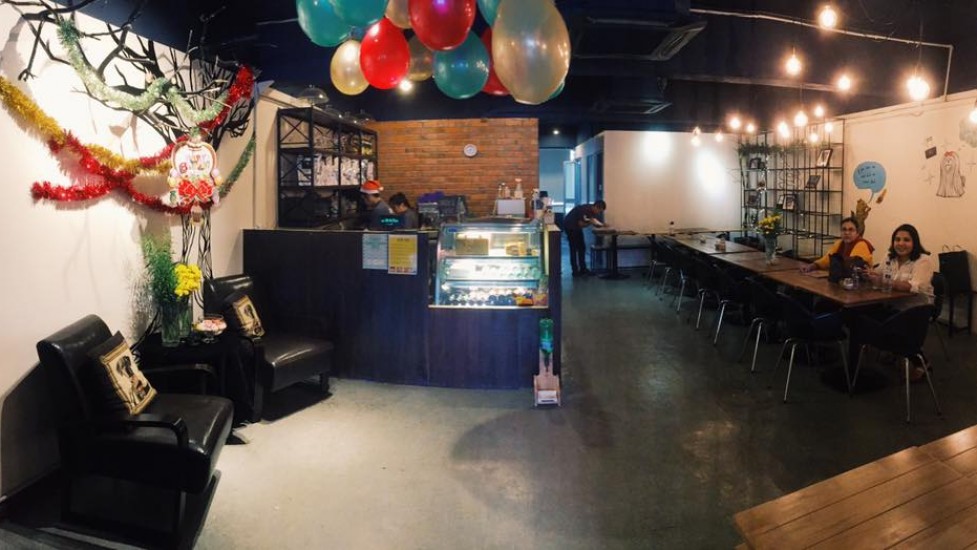 Address: No. 38 – 1, Jalan SS 22/25, Damansara Jaya, 47400 Petaling Jaya, Selangor.
Opening hours: 
Monday: Closed.
Tuesday to Thursday: 10.00am – 10.00pm.
Friday and Saturday: 10.00am – 11.00pm.
Sunday: 10.00am – 8.00pm.
Contact Information: +60 3-7733 6138/Facebook/Instagram
3. The Hound Cafe (Taman OUG)

Located above a Chinese medical hall, The Hound Cafe welcomes all dog lovers to their cute space guarded by their pup in residence, Cookie the Beagle. This is especially a place to be for pet owners who love coffee, cakes, and a relaxing place to take a break. Open-air areas are also available to customers and their respective pets to have a refreshing change from the indoors. While the exterior may look plain and simple, the colourful stained-glass windows, minimalist designs, and doggy portraits decorating the cafe creates a cosy, instagram-worthy atmosphere for you to enjoy whilst you dine alongside the wonderful canine companions.
Address: 44-A (upstairs), Jalan Hujan Emas 4, Taman OUG, 58200 Kuala Lumpur
Opening hours: 
Monday: Closed.
Tuesday to Thursday: 10.00am – 8.00pm.
Friday and Saturday: 10.00am – 11.00pm.
Sunday: 10.00am – 8.00pm.